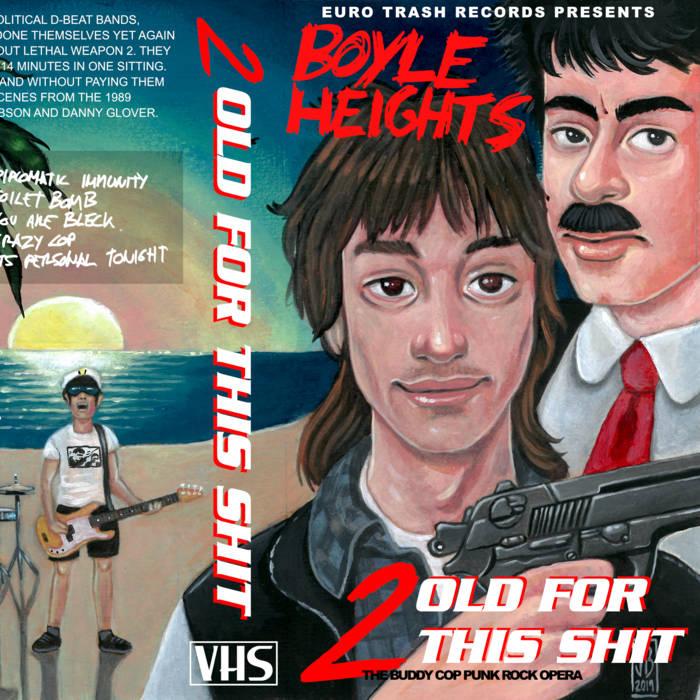 Manchmal hat man im Laufe eines ausufernden Kneipenabends total lustige Ideen, die mit zunehmender Anzahl von noch mehr Bieren durchaus realistisch und genial wirken – deshalb hab ich Kinder, haha.
Naja, meistens wird spätestens am nächsten Morgen allerdings von diesen Ideen Abstand genommen. Weil sie halt meistens kacke sind.
Die Jungs von Boyle Heights haben ihre geniale (Schnaps) Idee auf jeden Fall durchgezogen und ein "Album" aufgenommen, das sich ausschließlich dem ebenso tollen wie auch peinlichen Film Lethal Weapon 2 widmet. Wie geil ist das denn?
10 Songs, deren Titel schon die Dramaturgie des Films wiedergeben und die in bester Garage Punk HC Rumpel Manier nach 14 Minuten ausgelutscht sind. Ein Cover mit einem weißen Danny Glover/Roger Murtaugh und das Ganze natürlich auf Euro Trash Records. Damit könnte so eine spontane Aktion eigentlich schon abgehakt sein, aber nein…
Die verrückten Typen haben dann auch noch mit ihren Kumpels zusammen einige Szenen aus dem Film nachgestellt. Und den Scheiß kann man sich dann demnächst auf VHS kaufen. I shit you not…hier ist der Trailer:
Also das ist ja fast besser als das Original, möchte ich meinen. Bislang kann man zwar nur den einen Song hören, aber großartig anders werden sich die anderen Lieder auch nicht anhören…
[UPDATE] Jetzt das ganze, äh, Album Video im Stream. Geil!
Da brauchen wir viel mehr von. Mehr trinken und mehr bescheuerte Ideen in die Tat umsetzen, bitte!
IN A WORLD DOMINATED BY BORING D-BEAT BANDS, THE BOYLE HEIGHTS BOYS HAVE OUTDONE THEMSELVES YET AGAIN BY COMPOSING THIS ROCK OPERA ABOUT LETHAL WEAPON 2. THEY RECORDED THE 10 SONGS TOTALLING 14 MINUTES IN ONE SITTING. THEN THEY TOOK ALL THEIR FRIENDS, AND WITHOUT PAYING THEM A DIME, FORCED THEM TO REENACT SCENES FROM THE 1989 BLOCKBUSTER FILM STARRING MEL GIBSON AND DANNY GLOVER.

SHOULD BE READY NEXT MONTH!